BYOD: A Rationale And An Implementation Strategy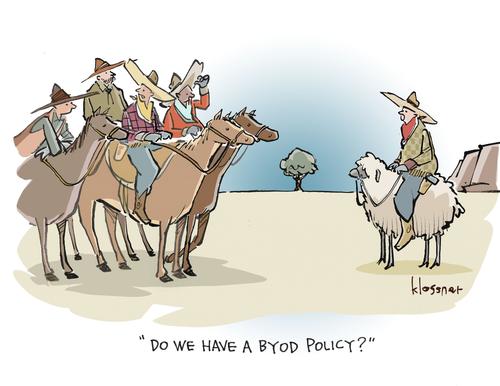 I have blogged elsewhere about how I came to use mobile technology in school as part of my lessons, and how BYOD has transformed the way in which my students learn and access learning. The next phase was to work out how the benefits of this could be rolled across a secondary school of 1700+ students. Having discussed what I was doing with other staff and leadership team, and been observed using the technology (only my second ever Outstanding verdict: Go me!), we turned to the tricky subject of how to fund what I had initially thought would be an iPad roll-out. It soon became clear that the school had no additional funding for this sort of 1:1 scheme, and we were loathe to ask parents to fund it, by loan, outright payment or any variety of lease schemes on offer. The fact is that in a recession, you can't justify asking them to pay for a premium device to accompany a supposedly free education, especially when there was insufficient evidence that the devices would be fully used, either by teachers or by students. We had to consider all options, including other tablets, and BYOD.
At the heart of this debate was a (healthy) argument between the Head of ICT at our school, the venerable (but not old!) @Gripweed1, and myself. John is an Android fan through and through, and thinks that Android will soon catch up with Apple's head-start in the tablet market, especially in terms of apps and functionality. He also argues that many teachers will not necessarily make full use of the iPad's capabilities, and will happily use it to browse the web etc, for which most Android devices will do fine. For my part, I like the ability to create that comes with iPads, and which I can make full use of in my subject, Media and Film. But I can see his point: Why should a student purchase something for a subject they may not even do?
And finally we arrived at the solution: We wanted to provoke our students, our parents and our staff into discussing openly the relative merits of different devices in different subjects. We wanted that meta-cognitive discussion to inform their choices, while allowing students to start out by using devices they were already perfectly comfortable with, namely their own. If at some stage down the line students begin to realise that there are serious limits to the functionality of their devices, then that is a conversation for them to have with parents, but that decision is not ours to enforce as a school.
So having teased you a little with the rationale behind our decisions, here's where we started…
Please feel free to comment and let us know your concerns: Always happy to help people out with the benefit of our experience and mistakes!